Corporate Social Responsibility is the standard for Lankveld
People, the environment and society are central to our company.
We continuously pay attention to doing business responsible and sustainable.
Below is a selection of our activities:
Quality mark PayChecked in transport
In 2018, we have received the PayChecked in Transport certificate. This quality mark demonstrates that we pay our employees as agreed in the CBA and that our personnel and payroll administration is in order.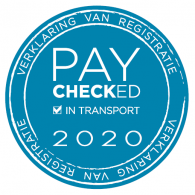 CO2 savings
Lankveld has already achieved a saving of 622,187 kg CO2 in 2020 through the use of intermodal options.
Fleet
93% of our fleet is equipped with EURO 6 engines.
In addition, driving on HVO, a fossil-free and renewable fuel, characterized by a very high CO2 reduction, was started in 2020. The target for 2021 is to provide 100% of the fleet with EURO 6 engines, so that the entire fleet is equipped with the most modern engine variant for long-distance transport.
Economical and safe driving program
Using Trimble's driver performance module, we observe and train the driving behavior of our drivers. We inform, advise and motivate our drivers in their driving behavior, resulting in an improved driving style, lower fuel consumption and reduced CO2 emissions.
Support local community
We support various local initiatives in the field of sports, culture and leisure.
Industry and KPI
In 2020 Lankveld invested in Business Intelligence Software. This gives Lankveld real-time insight into how the KPIs are developing. These KPIs are also periodically compared with the reports published by TLN and Panteia, so that Lankveld has a picture of how its KPIs compare to its peers.